Richard Thompson
Richard Thompson and The Foreign Landers appearing at The Tin Pan in Richmond, VA
Seating: We assign seats in order of when you purchase your tickets. All reservations are subject to a food and drink minimum of $15 per guest. Gratuity of 20% is automatically added to all food and beverage purchases.
Box Office: The Tin Pan charges lower fees for box office versus online sales. Our box office is open Tue-Sat 12PM-5PM. Please visit us during those hours or call 804-447-8189.
"THE FINEST ROCK SONGWRITER AFTER DYLAN AND THE BEST ELECTRIC GUITARIST SINCE HENDRIX." – LOS ANGELES TIMES
In 2017, Ivor Novello Award-winning and GRAMMY® Award-nominated legend Richard Thompson gave himself up to the music itself. Picking up a guitar, emotions echoed through his deft fleet-fingered fretwork, poetic songwriting, impassioned picking. Those transmissions comprise his nineteenth solo album, 13 Rivers.
"I never really think about what songs mean," he admits. "I just write them. Some of them reflect on what happened a few months ago or even a year ago. It's a process of surveying my life and where I was at."
In 2017, Thompson began composing ideas for what would become 13 Rivers at his California home. Off the road, he focused on writing. As a result of the defined time period, the music possessed a distinct cohesion.
"I wrote the songs as a group to hang together," he elaborates. "They belong together in some way and seem to possess a commonality since they were written in the same time and space."
To capture this vision, he retreated to the famed Boulevard Recording Studio in Los Angeles. Known previously as "The Producers Workshop" and once owned by Liberace and his manager, the locale served as the site for seminal classics by Steely Dan, Fleetwood Mac, Ringo Starr, and Joan Baez. It also hosted the mixing sessions for Pink Floyd's The Wall. Notably, this marked the first time Thompson self-produced in over a decade and he opted to track analog in just ten days. Engineered by Clay Blair (The War on Drugs), usual suspects Michael Jerome , Taras Prodaniuk , and Bobby Eichorn joined him.
"It's a funky studio that was quite popular in the sixties and seventies," he says. "It used to be Hollywood trendy, but it fell into total disrepair. It's still got some gaps in the walls. I like studios that are honest. It's about the décor of the sound, and there's a specific sound to Boulevard. Clay is a Beatles nut, so I could grab a Gretsch off the wall or dial into an amp that had this unbelievable tone reminiscent of The Beatles. They also say Liberace's ghost still haunts the place, but I hadn't seen him myself," laughs Thompson.
13 Rivers commences on the tribal percussion and guitar rustle of "The Storm Won't Come" as the artist bellows, "I'm looking for a storm to blow through town." The energy mounts before climaxing on a lyrical electric lead rife with airy bends and succinct shredding.
"Obviously it's been a stressful couple of years," he sighs. "The song references wanting to change your life—but it's a difficult undertaking. You have to wait for it to happen naturally. You can't force it."
Elsewhere, "Her Love Was Meant For Me" spirals into an emotionally charged display of fret fireworks punctuated by his deep wail. "Tears" shakes and shuffles from haunting verses towards a hypnotic refrain "about a friend's hard and interesting life."
Meanwhile, the dreamy "Shaking The Gates" unfolds like a hymnal as he croons, "I'm shaking the gates of heaven."
"The are 13 songs on the record, and each one is like a river," he explains. "Some flow faster than others. Some follow a slow and winding current. They all culminate on this one body of work."
In many ways, his career has pointed towards such a statement. Powered by evocative songcraft, jaw-dropping guitar playing, and indefinable spirit, this venerable icon holds a coveted spot on Rolling Stone's "100 Greatest Guitarists of All Time" and counts a Lifetime Achievement Award from the Americana Music Association in Nashville, and a Lifetime Achievement Award from the BBC Awards among his many accolades. 2011 saw Thompson garner an OBE (Order of the British Empire) personally bestowed upon him by Queen Elizabeth II at Buckingham Palace. Moreover, Time touted his anthem, "1952 Vincent Black Lightning," on its "100 Greatest Songs Since 1923" list.
Thompson's influence can't be overstated. Everybody from Robert Plant, Don Henley, and Elvis Costello to REM, Sleater-Kinney and David Byrne has covered his music.
Wilco's Jeff Tweedy jumped at the chance to produce 2015's Still – which earned plaudits from Pitchfork, The Guardian, Rolling Stone, and more. Meanwhile, Werner Herzog tapped him for the soundtrack to Grizzly Man. He launched his career by co-founding trailblazing rock outfit Fairport Convention, responsible for igniting a British Folk Rock movement.
However, 13 Rivers represents another high watermark. "The songs are a surprise in a good way," he leaves off. "They came to me as a surprise in a dark time. They reflected my emotions in an oblique manner that I'll never truly understand. It's as if they'd been channeled from somewhere else. You find deeper meaning in the best records as time goes on. The reward comes later."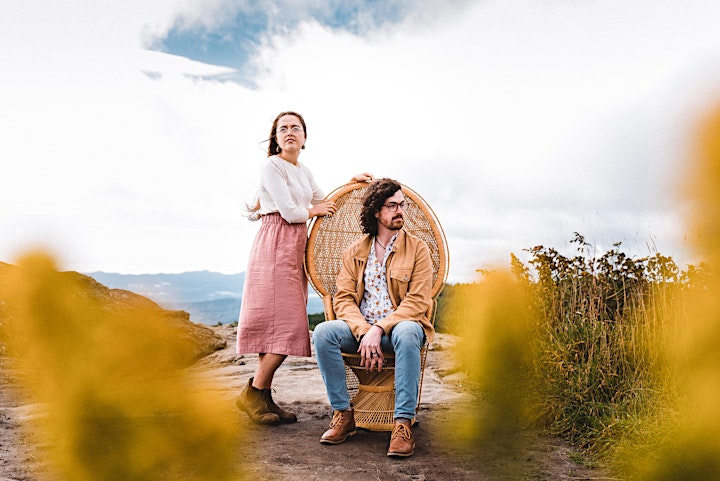 "I see the shining stars. I wonder if you see them too wherever you are." ~ from "Foreign Lander"
This line of the traditional song from which The Foreign Landers take their name captures something of what makes this Transatlantic folk duo's story so compelling. Mandolinist David Benedict grew up in South Carolina while Tabitha Agnew Benedict started playing 5-string banjo at a young age in her homeland of Northern Ireland. They spent their early years playing the same music, gazing at the same stars, yet still so far away from each other. But today Tabitha and David are carving their own path in the acoustic music world together, drawing on their unique international heritage to create something new. With the 2022 release of their album Travelers Rest, they share their own story in a way that is beautifully honest and moving. Although it is their story, listeners will find much that resonates within themselves—fears in the face of uncertainties and change, a commitment to cling to hope, and a longing for home/a familiar place to rest—all presented in a unique musical experience that sparks curiosity and joy, and showcases a love that unites across borders.
Individually these two are no foreigners to music. Before forming their duo, Tabitha performed with BBC Radio 2 Young Folk Award finalists Cup O'Joe from Northern Ireland, and Island Records signed British bluegrass band Midnight Skyracer. While in Nashville, David toured with Grammy-nominated, 10-time International Bluegrass Music Association (IBMA) Bass Player of the Year Award recipient Missy Raines, and later, in Boston, with 2020 IBMA New Artist of the Year Award recipient Mile Twelve. These opportunities led to both Tabitha and David receiving Instrumentalists of Year Momentum Awards from the IBMA as well.
Their paths first crossed with a chance meeting at the 2017 IBMA Convention in Raleigh, NC. There was an immediate spark between the two upon realizing they had so many personal and musical similarities in spite of being from distant places. The result of this first encounter led to thousands of skymiles earned and culminated with an international wedding in 2019, when Tabitha and David tied the knot near Tabitha's home in County Armagh, Northern Ireland.
In the retrospective words of award-winning mandolinist Sierra Hull, "Tabitha and David simply sound like two people who are meant to make music together." Yet it took a while for that to happen. Those lonely words from the old folk song above, still rang true, even after getting married. With touring commitments in different bands on opposite sides of the Atlantic, and green card red tape, Tabitha and David spent much of their first year of marriage apart, longing for the day when they could live in the same country and finally make music together. Making matters even more difficult, the known world changed at the horizon of a global pandemic. Facing immigration paperwork delays, canceled gigs, and unemployment, as well as general uncertainty about the future, the two isolated in place in Northern Ireland for 6 months at the beginning of 2020. However, the silver lining of their situation was that they were finally together with the time and space to start focusing on their own music.
With the resulting 6 track EP Put All Your Troubles Away (2021), The Foreign Landers made their first appearance on the scene as a duo. The Hudson Valley Bluegrass Association described the EP as "…simply stunning." Amidst the recording and release of this project, Tabitha's green card finally arrived and the two relocated to the US. They found themselves drawn to and eventually settling down in a small town fittingly named Travelers Rest, SC, where the band has flourished—writing songs, recording at their home studio, and touring together. The results of these efforts are on display with their new record which is slated for release on November 12th, 2022.
Named after their new hometown, The Foreign Landers debut full-length album Travelers Rest is an artistic rendering of this personal story—moving across the Atlantic in the face of many challenges to find a place of their own. The record opens with the nostalgic track "Traveler," a progressive bluegrass piece written from the perspective of Tabitha's parents in Northern Ireland. "Waves" (track 2) and "We'll Be Fine" (track 6) bring a sensitive Americana flavor to the album while still expressing the strong emotions of fear and confusion faced while awaiting Tabitha's Green Card in the midst of the pandemic. Tabitha's Ulster heritage shines through on the delightfully indecisive duet "Should I Go" (track 3), the exciting, modern Celtic instrumental medley "Johnny's Peacock/The Red-Tailed Hawk" (track 4), and a bittersweet requiem for moving house in "Boxes" (track 7). However the two make a heavy nod to their bluegrass roots with "Flying Back to You" (track 5), a song about David's misadventure flying across the Atlantic twice in one day to get back to Tabitha in Northern Ireland before international borders closed at the beginning of Covid-19, as well as a thoughtful reimagining of the Jimmy Martin bluegrass standard "Sunny Side of the Mountain" (track 8). The album ends resolute with the quiet determination of "Garden" (track 9), an old time ode to planting seeds wherever you are, even in the midst of uncertainty, and "The Last Song" (track 10), a Lewis and Tolkien inspired, haunting duet that captures the universal, persistent hope that there's a greater home somewhere beyond this life. Throughout this album, David and Tabitha's musical story unfolds with the support of a host of talented guest musicians including: John Doyle, Brian Finnegan, Brittany Haas, Ethan Ballinger, and more.
Listening to this debut album will leave you convinced that The Foreign Landers were destined to be together and destined to leave their unique mark on the acoustic music scene. Their authenticity and originality in songwriting, tasteful multi-instrumental prowess, evocative vocals and unique transatlantic touch all combine together to create something inexpressibly foreign and yet strangely familiar. To quote Bluegrass Unlimited, "…be forewarned… The Foreign Landers have arrived. Listening to their music is like reuniting with an old friend. So, open up your door, welcome them in and put their music on. You will be glad you did."